Graham Reid | | <1 min read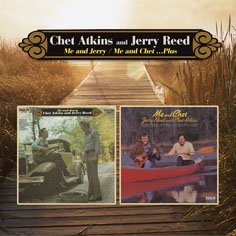 Doubtless one for guitarists (of the country pickin' persuasion too perhaps), this two-fer pulls the '70 and '72 Grammy-grabbing duet albums by Atkins and Reed onto one disc and adds eight bonus tracks. There is a small band (which includes pianist Floyd Cramer) on the Me and Chet album.
With Chet on the right and Jerry on the left you can discern their stylistic differences (Reed rocks, Atkins is accurate) on material as diverse as pop covers (Bridge Over Troubled Waters, MacArthur Park, Something), country tunes (Mystery Train, Nashtown Ville), classical pieces adapted (Liszt's Liebestraum) and virtuoso workouts (Jerry's Breakdown, The Mad Russian).
Well annotated, as is customary from Raven reissues.