Graham Reid | | 1 min read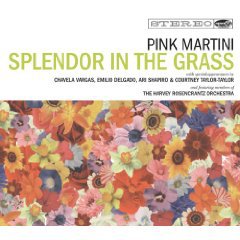 The soundtrack for a sophisticated, cocktail-sipping summer afternoon starts here with the classy amalgam of pop and classical by the ensemble out of Portland, Oregon lead by pianist Thomas Lauderdale and featuring the pristine, unassuming voice of China Forbes.
The title track, by way of example, lifts the melody of Lalo Schifrin's Burning Bridges (the theme to Kelly's Heroes if I recall), adds new and romantic lyrics then takes off with a swelling string and head spinning central section from Tchaikovsky's piano concerto no 1 in B flat minor (don't worry, you'll know it). It is strange and extraordinary, and features Courtney Taylor-Taylor of the Dandy Warhols on guitar.
I could have lived without their very straight take on the MOR standard Sing ("sing out loud, sing out strong . . . sing of good things not bad") but Forbes' original Over the Valley with Lauderdale is exceptional. A new standard in the manner of a show tune ballad.
When 90-year old Chavela Vargas guests on the heartbreaking Piensa en mi ("think of me . . . [my life] is worth nothing without you") it is handkerchief time, and it is always good to hear the eccentric Moondog's love song to New York in New Amsterdam here sung by the Pacific Youth Choir.
With orchestration and choral parts, and Forbes gorgeous vocals, this is almost old fashioned in its romantic qualities and an effortless synthesis of pop ballads, Spanish songs, classical music and heartfelt blue-eyed soulfulness.
It also comes with a concert DVD from 2006 of songs not on the disc. That's a real bonus.