Graham Reid | | 1 min read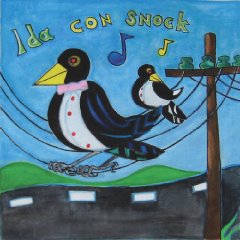 Michael Hurley's laidback style which bridges traditional and alt.country hasn't gone overlooked by his musical peers although their audiences seem a little slower to catch on: he has toured with Lucinda Williams, Bill Callahan, the Palace Brothers (aka Bonnie Prince Billy) and others, and he counts Cat Power and Vetiver among those who have covered his songs.
Perhaps it is because he falls into neither alt. nor trad. that hasn't quite made the leap to a larger audience, but his music is also lowkey and he's in no hurry either it seems. This album was recorded two years ago with a group of friends in Levon Helm's studio in Woodstock (where the Black Crowe's most recent album Before the Frost was done). The cover looks like a 12-year old did it (he did) and the "design" is pretty low rent.
But that's in the nature of the folk artist that he is, and he dates himself back to the Greenwich Village folk scene of the Sixties and released his first album on the Folkways label. The legendary Holy Modal Rounders picked up some of his lyrics, but his own recording career has been intermittent but his albums in his colourfully done covers have had a loyal cult following.
Little has changed over the years: here he pulls his lazy vocals through easy tunes with fiddle, viola, violin, harmonium and appropriate "sound effects" (his plays "mouth trumpet") and there is an unflustered quality about what Hurley does. He makes JJ Cale sound like he's on uppers.
He's a man who gives the impression that while he's put some effort into making this album he would graciously accept your apology if you said you hadn't heard it. Not a man to draw attention to himself or his music -- which makes it even more appealing, in a low, untutored and familiar way.
You even believe him when he sings to a 16-year old "I want to go steady". And not in a yucky bad way.
Hurley is comfortable, like a very easy chair.