Graham Reid | | 1 min read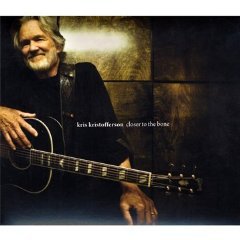 Although his previous album This Old Road won some critical plaudits, it is hard to hear Closer to the Bone as much other than a collection of sentimental songs, some of which border on the trite.
Kristofferson, especially in recent years, has never been much of a singer (he concedes that) but here his voice really has lost most of its gritty and gruff appeal as he wobbles uneasily and with little force -- and so as always you look to the lyrics for its strength.
But even here this is disappointing: "darling if we're not together there's one thing I want you to know, I'll love you from here to forever and be with you wherever you go" Nice, honest, true but hardly original or insightful as Kristofferson once was.
There is considerable soul baring of his human weaknesses and love for family, and Sister Sinead is a belated look at that Pope-photo ripping incident then anti-national anthem period of Sinead O'Connor (I recall she rejected Kris' support saying he was paternalistic or some such) and while it is fine to admire her courage ("that bald-headed brave little girl" isn't condescending?) it is quite another to say: "Maybe she's crazy and maybe she ain't, but so was Picasso and so were the saints".
That is, frankly, stupid.
There are, as you would expect, some fine things here, notably Good Morning John (to Johnny Cash) and The Wonder at the end before the brief hidden track (a funny song he wrote at 11) -- but too often you feel here is a poet bereft of deep inspiration and robbed of a voice which conveys the kind of gravitas or character of his fellow travellers Willie Nelson and Cash.
Disappointing.