Graham Reid | | <1 min read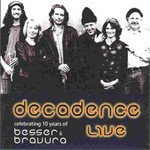 The music of Auckland-based, New York-raised pianist/composer Jonathan Besser -- often with the group Bravura -- has long deserved a broader audience than the classical world which it inhabits.
Working with guitarist Nigel Gavin, bassist Peter Scott and violin player Miranda Adams (among others) whose reach stretches to experimental music, soundtracks, jazz and contemporary classical, and yet keeping an ear on his Jewish past (klezmer influences) as much as chamber music has allowed Besser to create a portfolio of music over five albums which can be engaging or enthralling, reflective or vibrantly alive.
This 17-track retrospective of Bravura music recorded live in late 2008 is like a vigorous journey from the stately (pieces from the album Mr Darwin's Dances) through tango and ballet pieces to a five minute encore on a klezmer.
There are mischievious dialogues between Adams and Gavin, driving percussion by Yair Katz, Tatiana Lanchtchikova's romantic accordion and of course Besser at grand piano.
As an overview of a decade this hits the mark dead centre. Recommended.