Graham Reid | | 1 min read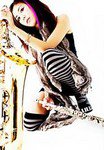 Although the cover says "Miho Wada plays Japanese punk jazz" you'd be hard pushed to locate much of whatever that is here: it sure doesn't sound like Guitar Wolf going all Ornette Coleman your arse.
It opens with a rather lame and light reggae groove over which Wada -- who was born in Japan, schooled in Christchurch and Canterbury Uni then went Trinity College in London -- offers a thin flute melody.
As vocalist she is weak and wobbly and will doubtless be embraced by those who (briefly) thought Wing was interesting. But Wada is a little more sexy: "you can play with whatever, let's get lost in pleasure".
And later on Piss Off (Such a Loser) with its ska beat is bound to get her some cult following, although the band carries it for the most part.
Her bio says she was discovered by Nigel Kennedy at Ronnie Scotts' and played with him for some gigs, then she went to Cuba and studied under Buena Vista musicians, was on that Orcon ad with Iggy doing Passenger . . . and much more. Seun Kuti "mentored" her on saxophone at WOMAD apparently.
Some big claims, but hardly backed up by what is on this disc.
The most interesting things here in fact aren't the kitschy and faux-Japanese "punk jazz", but the slightly Zen/ethereal flute piece The Traveller, Furusato where guitarist John McNab spins out some interesting lines, and Song for Okinawa which has a pleasant slightly Japanese folk feel.
Call Girl's vocal are unlistenable and Wada should be cautious about the motives of those who acclaim her. I'm not sure if they would be laughing with/at her, and whether she is laughing with/at us.
So this isn't anything like what you might think from her product description but is mostly polite, unaffecting flute jazz for a hotel lobby with a few tangential "rock" pieces thrown in.
On the basis of this calling-card album, Wada is a mildly interesting diversion but this is very much a caveat emptor situation.
And I'd really caveat that emptor, as it were.