Graham Reid | | 1 min read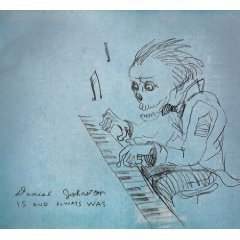 I'm probably not alone in thinking of Daniel Johnston, not just as some untutored genius and outsider artist, but as someone whose life has often been pitiable and sad. That he is disturbed is beyond question.
That said, Johnston's no-fi cassette recordings (some of which have turned up on CD over the years), can be transfixing for their sheer naked honesty -- and sometimes great tunes just about coming to the surface. His drawings I can appreciate but on a take-it ot leave-it basis.
Obsessed by the Beatles and the arc of his own life (he is self aware and calls himself a "psycho" and "disturbed"), Johnston has always written songs which seemed to be completely unfiltered: the words, stories, unusual images and music just came out of him -- even if his mother was yelling at him to come upstairs for dinner or to turn that racket down.
That he's made another album is no surprise -- he was always going to keep recording despite whatever circumstance he was in -- but that this one is a fully rounded studio production comes as shock. In a pleasant way for the most part.
Here producer Jason Falkner and some ring-in musicians have helped Johnson create an album perhaps along the lines of what he thinks he might have, or would like to have, sounded: there is a daffy and swirling psychedelic quality to Lost in My Infinite Melody and Light of the Day right at the end -- and before that it has been a trip through bent piano ballads, him bemoaning "get down boogie on fake records of rock and roll", Fifties pop (the should-be hit High Horse) and short snappy New Wave (Freedom).
Where the Beatles used to inhabit his world view, now you sense in Falkner's hands early Brian Wilson (before he too lost his marbles) is in there too. Johnston's pure pop sensibilities have been drawn out.
Although some of these are older songs (I guess some are new, it's hard to follow his output) Johnson's sounds much more upbeat and optimistic throughout ("Queenie the Doggie will live for eternity" takes on new meaning, "I want you to be my wife"). And although one track is a lively rocked-up rehit of his song entitled I Had Lost My Mind, the point to note is that he sings it with conviction -- and it feels like it is in the past tense.

Johnston was always a tough call for most people and some will bemoan the loss here of that raw and disturbed quality, but he has never sounded so good.
Curiously enough, I mis-read the handwritten title of this album for a while. I think, given Johnston's arrested state, mine was better: 15 and Always Was.