Graham Reid | | 1 min read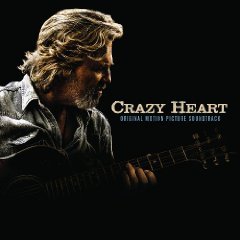 This soundtrack album is from the excellent movie which has been picking up Jeff Bridges acclaim and awards, as it should. He does a terrific job as an aging country singer whose career has been derailed by booze and drugs and itinerancy. And who looks for all the world like Kris Kristofferson might have if he hadn't pulled himself up a notch or two.
As Bridges (who plays singer/songwriter Bad Blake) drives from one low-rent bowling alley gig to another in a small bar (pissing in a plastic bottle in his car), we see a life unravelled. He plays with young pick-up bands of musicians who admire him (among them a group with Ryan Bingham) or older guys who grew up on his songs, encounters loose and often unattractive women, and drinks himself into a semi-comatose state in filthy motel rooms. He is broke and a former partner is filling stadiums.
It is grim, and although there is some shift in his fortunes -- largely due to events outside himself which force a change -- the film hardly offers a conveniently uplifting ending. Love hovers in the wings but he's in no state to catch it.
Along the way Bridges sings as Bad Blake ("I used to be somebody, now I am somebody else") and in the background we hear songs by the Louvin Brothers (My Baby's Gone), Buck Owens (Hello Trouble), Lightnin' Hopkins (Once a Gambler), Waylon Jennings (Are You Sure Hank Done It This Way), Townes Van Zandt (If I Needed You) and others -- all included here.
Bingham provides a couple of songs too, among them The Weary Kind which acts as the theme.
The tagline "the harder the life, the sweeter the song" is hard to justify given the nature of Bad Blake's battered existence -- but Blake's story (not that unfamiliar if you have been in bars in Texas and beyond) makes for a gripping film and a damn fine soundtrack.
The official clip below makes it look more of a love story than it is -- although that is a part of it. But just a part. My review of the film is here.