Graham Reid | | <1 min read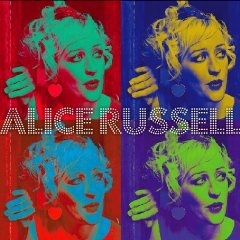 This may well be for a minority audience for a few reasons: not as many people liked UK soul singer Alice Russell's late 2008 album Pot of Gold quite as much as I did (but seemed to like her Auckland gig a whole lot more than me, I quit out of despair). And this is a double disc of remixes of those album tracks by the likes DJ Vadim, Mr Scruff, Mocean Worker, Kid Gusto, Shawn Lee and others.
So that is a lot of remixing (by some admittedly big names) of music that seemed to underwhelm many.
Still, remixers can maybe bring out elements that were lost on the original (or create a different tone by adding percussion and/or other instruments).
Certainly this really works in the hands of Mocean Worker (on a multi-dimensional and exciting rehit of All Alone) and Herman Puma (taking Two Steps into sultry post-Motown soul). And when Laura J Martin finds a woozy and dramatic European cabaret element in a busy re-jig of Lights Went Out, on Shawn Lee's cinematically urgent Two Steps, the slippery-jazzy Universe remix by Dusty with flickery flute added. . .
Needless to say Russell herself often disappears (Emika's stripped out Hurry On Now) and my guess is only the very serious will sit down to compare the five versions of Got the Hunger? (DJ Vadim, J-Boogie, Llorca, Ticklah and The Heavy Mix).
But this is doubtless a lifesaver if you are a soul-inclined DJ working the clubs.
Dip and dive selectively.