Graham Reid | | 2 min read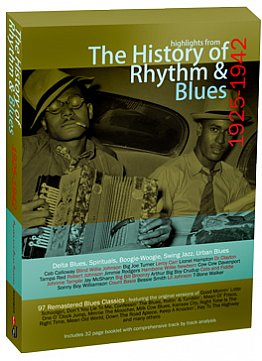 From the opening track on this remarkable collection -- a testifying scream of faith recorded in 1934 which calls to mind Little Richard and Hasel Adkins as much as African chants -- you are offered evidence of the old saying/song, "the blues had a baby and they called it rock'n'roll".
Just as Blind Willie Johnson (here with Nobody's Fault But Mine from '27, which Led Zeppelin adapted) influenced Muddy Waters who influenced the young Rolling Stones and the Animals in the British blues explosion of the early Sixties, so too Outside Woman Blues (here recorded by Blind Joe Reynolds in '27) was picked up Cream in the late Sixties. And on Tom Petty's Live Anthology you hear their cover of a version of Diddie Wah Diddie (as rewritten by Willie Dixon).
The young Elvis sang a version of Milk Cow Blues (here by Sleepy John Estes whom Lennon admired) and the Beatles covered the Lieber-Stoller revision of Kansas City which here appears in an earlier version by Jim Jackson in the late Twenties.
It is interesting to note how many songs from the first decades of last century were adopted and adapted by others in the Fifties (who sometimes claimed authorship) and were in turn covered by rock musicians in the Sixties and Seventies.
And that is just the music on the first of these four discs which pulls together 97 songs (annotated in the booklet) and includes big names like Blind Lemon Jefferson, Skip James, Robert Johnson, Lonnie Johnson and Big Bill Broonzy alongside lesser known figures like Jimmie Gordon, Big Maceo and Doctor Clayton.
Although loosely chronological, the music also divides itself into reasonably distinct categories as it developed and changed. So the first disc here picks up country blues, spirituals, jug bands and hokum, and the second concentrates on boogie-woogie, ragtime and jazz (with Louis Armstrong, Muggsy Spanier, Speckled Red, Roosevelt Sykes and others).
The inclusion of Armstrong (with Knockin' A Jug from 1929, with Jack Teagarden and others) is interesting: almost exclusively associated with jazz in the popular imagination, the trumpeter also played blues in his early days in New Orleans and as the liner notes point out this piece sounds remarkably close to the blues being played in Chicago about a decade later. It had travelled up north with the people who made it.
Roosevelt Sykes makes a number of appearances, as he should: he was an enormously influential player (and sometime "teacher"), one of the tracks here is Dirty Mother For You from '36 which the notorious Dirty Red slurred even more on his more X-rated version.
The third disc looks to urban blues and gospel, and you can hear the songs toughening up, even the testifying songs like Elder Otis Jones who roars through the old spiritual Holy Mountain as if the apocalypse is nigh. You don't know whether to get on your knees or head to a bar. He seems equally uncertain.
The final disc is suitably entitled "After Hours, Swing, Boogie and Jive" because in the hands of Count Basie, Benny Goodman, Louis Jordan, Jimmy Lunceford and Cab Calloway the swing came in and the entertianment factor was increased.
That said, T-Bone Walker and others could still sting you.
Some of these lyrics reach deep into your soul, other sentiments appeal to a more base side of your personality: the spirit and sex (Lil Johnson's Press My Button!) in about equal measure -- and in music which reached across the decades to insinuate itself into swing and pop, and then into rock'n'roll.
This collection is a heroic attempt to pull all these diverse but related threads of black music together and offer a cross-label overview.
It is remarkably successful, and once you have immersed yourself in it you simply want to know where the music went after this period. Well, it went here.
For a timeline of rhythm and blues go here.