Graham Reid | | 3 min read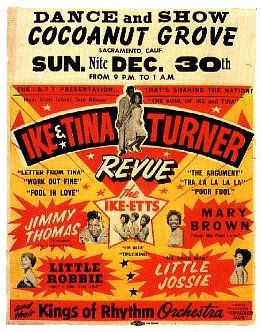 If the previous collection in this excellent series -- which went from country blues in the Twenties to swing, boogie and jump jive in the early Forties -- laid out the ground, this equally fine (and fun) set picks up the pace and moves from the clubs of Harlem into proto-rock'n'roll.
In the early part of the first disc (entitled Jumpin' from Harlem to the West Coast) the shadow of the war still hangs over the music: Dinah Washington's Evil Gal Blues has her losing her man to Uncle Sam, Cecil Grant's lovely hit Wonder had an added push by him being billed as Private Cecil Grant. But then austerity gives way to celebration.
After the war the industries which had been feeding the war machine turned to consumer products, people wanted to celebrate, there was prosperity, clubs were swinging and juke boxes were everywhere.
The story of the impact of the jukebox is fascinating in itself. In his excellent book How the Beatles Destroyed Rock'n'Roll: An Alternative History of American Popular Music the writer Elijah Wald records that in 1933 there were 20,000 to 25,000 jukeboxes in the US, by the end of the decade there were 350,000 to 400,000. Nearly half of all records sold in the US in 1940 went into jukeboxes.
And so while live performers suffered, recording artists became stars. When the boycott of recording was over -- and Wald notes it had little real effect for many singers -- everybody was cutting records.
As with that earlier collection, here again we have songs which underwent rewrites and transformations: Helen Humes' Be-bapa-leba of '45 became Hey! Ba-Ba-Re-Bop for Lionel Hampton the following year and then morphed into Be-Bop-A Lula for Gene Vincent a decade later.
Even gospel songs were given a make-over: Strange Things Happening by Sister Rosetta Tharp (an influence of the young Bob Dylan) gets a beat going.
The second disc -- Guitar Boogies, Sax Screamers, Gospel Roads -- includes classic songs from great singers who influenced Fifties rock'n'roll and the British blues boom of the early Sixties: it opens with Arthur Crudup's That's All Right Mama from '46 (which Elvis famously kicked off his career with), moves into Big Joe Williams' Baby Please Don't Go (which Van Morrison and the Animals covered) and Louis Speiginer's Guitar Boogie was adapted by every plank spanker from Chuck Berry to Jeff Beck.
The Hucklebuck by Roy Milton of '49 had its origins in the Twenties but became best known in New Zealand for the Beatles-era guitar-pop make-over by The Chicks.
Later there is Muddy Waters' I Can't Be Satisfied (covered by the young Stones), T-Bone Walker's Call it Stormy Monday and John Lee Hooker's Boogie Chillen (Van and the Animals again).
There is plenty of sex (Lightin' Hopkins' mock apologetic Let Me Play with Your Poodle, Louis Jordan's very funny Pettin' and Pokin' which is about fightin' and make-up sex) alongside the Dixiaires' Friends Let Me Tell You About Jesus.
The title of the third disc, Have You Heard the News, There's Good Rockin' Tonight, tells its own story: it opens with Wynonie Harris' great hand-clapping Good Rockin' Tonight, then there's Rock and Roll (Wild Bill Moore), Saturday Night Fish Fry (Louis Jordan), Rock Around the Clock by Hal Singer from '50 (done in a mild Jordan style), I'm Gonna Rock (Ralph Wills) and Rocket 88 by Jackie Brenston which was recorded by Ike Turner at Sam Phillips' Memphis studio and is widely considered the first rock'n'roll song.
But if you listen to bass lines or guitar riffs in many of these songs you can hear where the likes of Chuck Berry got their ideas from.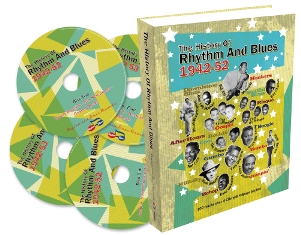 Here too is classic material by Elmore James (Dust My Broom), Howlin' Wolf (How Many More Years) and The Larks (Eyesight to the Blind which the Who adapted for Tommy).
There is also more sex: the Swallows' It Ain't The Meat ("it's the motion, makes your daddy wants to rock . . .")
The final disc moves the scene to early soul and New Orleans. Among the Nawlins masters included are Dave Bartholomew, Professor Longhair, Fats Domino, Lloyd Price and Ruth Brown.
There is also early Percy Mayfield, more Big Joe Turner, Lowell Fulson and Ray Charles. Exceptional.
As a cross-label collection the sets in this well annotated series can hardly be beaten. Here are a couple of hundred songs which tell you more about their world than most history books, and which shaped the landscape of pop and rock, blues and soul in the Fifties, Sixties and beyond.
These should be cornerstones in any serious music collection. Hats off to Rhythm and Blues Records out of the UK. And lawdy mama, there is even a volume which takes you from 1952 to 1957!
For a timeline of rhythm and blues go here.