Graham Reid | | 5 min read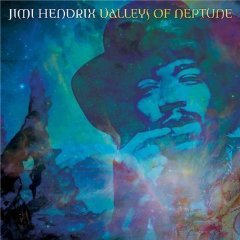 The old joke -- usually applied to the death of Elvis -- is "good career move".

Death sells, just ask -- if you could -- Elvis, Janis Joplin, Jim Morrison, Otis Redding, John Lennon and Kurt Cobain who saw their record sales soar after their deaths. Or would have, if they could have.

As a magazine cover said of Jim Morrison: "He's hot. He's sexy -- and he's dead".

Jimi Hendrix is a much more interesting story. Between his debut single -- the phenomenal Hey Joe recorded in December '66 -- and his death in September 1970 he only saw four official albums released: Are You Experience and Axis: Bold As Love (both '67), the double album Electric Ladyland (late '68) and the live Band of Gypsys (April '70).

Since his death however there have been scores of Jimi albums released with material lifted from radio appearance, live concerts, studio jams, the big box set - and the albums where producer Alan Douglas controversially stripped out everything but Hendrix's fluid and mercurial guitar and added new backing tracks.

Add in bootlegs and the reconstructed albums done officially through his estate Experience Hendrix and Jimi's death hardly ended his career.

Most of those album tarnished his reputation however.
Given there's hardly been a shortage of Hendrix albums since his death, the question is: Why has Valleys of Neptune gained so much attention?
Two reasons. First, Sony struck a deal with Experience Hendrix which handles the singer/guitarist estate and his catalogue is being spruced up and repackaged.
So alongside this "new" one his key albums -- Are You Experienced, Axis: Bold As Love, Electric Ladyland, the live Band of Gypsys, and the posthumously reconstructed First Rays of a New Rising Sun -- are now re-presented as enhanced discs (videos, interviews etc) with informative booklets and "making of" docos (except on Band of Gypsys) by Bob Smeaton who did the same for the Beatles catalogue.
The second reason is that Valleys of Neptune collects studio sessions from (mostly) '69 and feature (mostly) the original -- and best -- band that Hendrix had, the Experience with bassist Noel Redding and drummer Mitch Mitchell.
Valleys is therefore a coherent, consistent collection of previously unreleased studio sessions which have been mixed by Hendrix's longtime studio engineer Eddie Kramer, and most attribute Hendrix as the producer.
There is an authenticity to this album woefully lacking in many posthumous releases.
The thrilling Valleys of Neptune is an official album which restores Hendrix's reputation to the frontline where it deserves to be.

Here is Hendrix spinning out on blues (a gritty seven and half minute version of Hear My Train A Comin', an eight minute Red House), a tough deconstruction of Cream's Sunshine of Your Love, a staggering six minute Bleeding Heart (only short versions have appeared previously), a white-heat treatment of Fire, and songs never heard before such as the mystical title track (which alludes to the Doors' Mr Mojo Rising).

The stabbing pop of Mr Bad Luck (which recalls House Burning Down on Electric Ladyland) is a version of Look Over Yonder intended for The First Rays of the New Rising Sun (but which didn't appear on that reconstructed album.) Crying Blue Rain hints at Voodoo Child and Hey Joe simultaneously.
Admittedly Ships Passing Through the Night is a lesser piece and to be honest, exciting though it is, the version of Fire (aside from the guitar part) doesn't really improve on the original.

Unless you have searched dodgy internet sites all these tracks will be unfamiliar: they are all unreleased studio sessions of exceptional quality and everywhere the great Jimi Hendrix delivers that sky-scaling, mercurial guitar sound which many have tried to copy and few have succeeded.

That was Hendrix's signature, and here it is written big and bold.
Take it from one who grew up on Hendrix and has a huge collection which includes his best albums and some dodgy bootlegs, Valleys of Neptune (in a cover photo by Linda McCartney) stings, sings and soars out of the speakers.
It delivers guitar rock beamed in from another era, but sounding as exciting and innovative today as it was all those decades ago
Welcome back Jimi. It's been worth the wait.
THE 2010 HENDRIX REISSUE SERIES

ARE YOU EXPERIENCED (1967) *

On arguably the finest and most diverse debut in rock, Hendrix staked out vast territory that he would explore: electric blues, pop, experimental sonic jams, gorgeous ballads, psychedelic rock, soul-rock . . .
Essential in any serious music collection.

AXIS: BOLD AS LOVE (1967) *
Not quite a masterpiece like its predecessor and lamed by some lesser pop-style songs, but here is Hendrix exploring the possibilities of the recording studio and alongside fiery rock he drops in beautiful ballads (Little Wing, Castles Made of Sand, the title track). A stepping stone to the greatness which followed.

ELECTRIC LADYLAND (1968) *
Hendrix using the studio as an instrument. Tape speeds change to create eerie effects, he unleashes his heaviest sound on Voodoo Child (Slight Return) alongside a side-long and jazzy dreamscape, and threw in the pop-rock genius of Crosstown Traffic for good measure. Again he redefined the possibilities of rock.
This is a cornerstone album in any collection, and there is an in-depth review of it at Essential Elsewhere.

BAND OF GYPSYS (1970)
With a new line-up (more funk and soul), the band recorded this live at the Fillmore East in New York. Hendrix flounders and the material is weak for the most part. B
But at the height of ghetto troubles and the war in Vietnam he unleashed his devastating Machine Gun.

FIRST RAYS OF THE NEW RISING SUN (1997) *
The official reconstruction of the album he working on at the time of his death which includes classic material, among them Angel, Room Full of Mirrors, Dolly Dagger and In From The Storm.
There is no clear evidence this was the intented album, but the music proves that despite Band of Gypsys he hadn't lost the plot.

* These albums come with "making of" doco DVDs by Bob Smeaton, writer/director on The Beatles Anthology and creator of the mini-docos on the recent Beatles remasters. DVD and Blu-Ray versions of the acclaimed doco Hendrix: Live at Woodstock are also being released.