Graham Reid | | <1 min read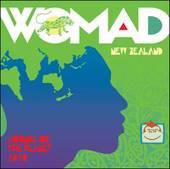 Here is the official 14 track compilation of artists at the 2010 Womad in Taranaki (March 12-14) and includes the exotic oud-folk-pop of Kamel el Harrachi, alt-world by Calexico, Ethiopian singer Mahmoud Ahmed, the Skatalites, the lively tropicalia-cum-flamenco of Ojos de Brujo . . .
As with all such fit-for-purpose sampler items, this is perhaps only useful as a memento if you are at the festival: wise heads will have already sought out individual albums by the likes of Calexico, the Sahara blues of the great Mariem Hassan, Dub Colossus and others.