Graham Reid | | 1 min read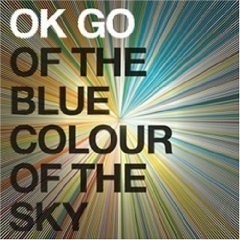 At the recent Laneways Festival it was noticeable every young band delivered up its obligatory noise segment -- feedback, atonal guitar trash'n'trash -- as if to prove its indie-alt cred.
But if everyone is doing it then how independent and alternative is that? You've just conformed to type. And most such noise isn't that interesting anyway.
I suspect that live this LA band might do the same (the breakdown section in Needing/Getting before they get trippy suggests that) but they seem far more original and smart than most.
Best known for that cleverly choreographed video clip for Here It Goes Again where they danced on a treadmills, these guys fire off sharp salvoes of alt.rock, power pop, tight psychedelic pop-rock, a bit of dreamy falsetto-funk on Skyscrapers and White Knuckles (in the manner of Prince) -- and mostly keep the pop template close to their hearts.
The album suffers from a poor running order -- the shapeless WTF? which opens could have been lost entirely or buried, the Sixties-referencing This Too Shall Pass is a better opener -- but there are real gems scattered throughout, notably in the last half.
As with Supergrass who cracked a couple of early radio/teen-friendly hits but went on to better (if rather overlooked) albums, OK Go have proven they've got a lot more depth than first impressions.
If this was their "difficult third album" they seemed to have hurdled it with ease and make mature pop of various persuasions which shifts from acoustic ballads (Last Leaf) and the dreamy While You Were Asleep to angular lite-rock (although Before the Earth Was Round might have been better without the Auto-Tune) and the string-splattered Lennon '67-styled Back from Kathmandu.
An album where every track is distinctive. Cool.