Graham Reid | | 1 min read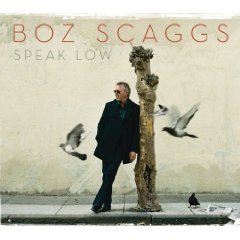 With his classic blue-eyed pop-soul albums of the mid and late 70s -- Silk Degrees and Down Two Then Left -- Scaggs brought a slippery rhythmic sensibility to his singing and, with famed jazz and studio musicians backing him, managed to cross effortlessly between the pop, r'n'b and soul charts.

Over the decades he moved further into material from the Great American Songbook (Gershwin, Rodgers and Hart, Ellington and so on) -- and this one from 2008 (again with some of LA's finest studio players including arranger/pianist Gil Goldstein) continues in that vein.

It has been given re-release (or maybe just release, there's hardly been a demand for his recent albums) in advance of New Zealand concerts with Michael McDonald and Mick Fleetwood.

On stage he'll doubtless favour his hits (Lido, Lowdown, Hollywood) because this dim-lights collection offers a more intimate mood as he takes that distinctive voice through Ellington's Do Nothing Till You Hear From Me, Hoagy Carmichael's Skylark, the slightly swinging title track and lovely, slow material such as Ballad of All the Sad Young Men and Dindi.

These are adventurous arrangements beautifully played and Scaggs makes it sound effortless -- and while the audience at the gigs will want the old songs, this might appeal more at home when the kids have grabbed the car keys and gone out for the night.