Graham Reid | | 1 min read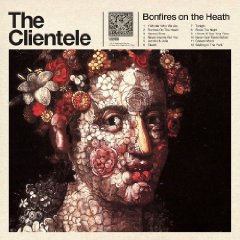 The charming, wispy and intimate pop of this London outfit has long been an Elsewhere favourite: their album God Save the Clientele was among The Best of Elsewhere 2007 and they share the same PopFrenzy label as equally delightful pop bands such as Camera Obscura, Lightning Dust, Radio Dept and Institut Polaire.
The Clientele embark here on an even more pastoral, breezy and light direction on an album where the titles include Three Month Summers, Harvest Time, Graven Wood and Walking in the Park. And with harmony vocals, soft lines from a silvery Telecaster and lyrics about trees, staring longingly out of windows and hints of darkness there is an airy if lightly melancholy feel at work.
When the pace (marginally) picks up you can hear debts to Sixties bands like the Association, Spanky and Our Gang and the Left Banke, as well as hints of a gentle alt.country (as delivered by Neil Halstead, especially on the lovely Jennifer and Julia with its lonely trumpet).
These are classic, mature and dreamy if slightly uneasy pop-folk -- but if it were all like this the album would evaporate before your ears.
Offsetting this are the more assertive but less successful tracks: the jerky Share the Light which is stuttering guitars; the rudely intrusive rockist Sketch; the make-weight Share the Night.
The highpoints (I Know I Will Still See You Face which recalls aspects of Love's classic Forever Changes, the droning and brooding Graven Wood with light guitar jangle) however outweigh the few lesser moments and confirm not only why they are cited as an influence by the Fleet Foxes, but also why they have also been described as "one of Britain's most unheralded but genuine musical treasures" (BBC).
Still favoured at Elsewhere.