Graham Reid | | 1 min read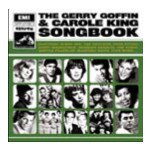 While Carole King went on to greater fame, it is worth remembering that of the songs she wrote with her writing partner-then-husband Gerry Goffin in the early Sixties it was he who penned those memorable and often extremely adult lyrics: think of the pre-sex doubt in "will you still love me tomorrow", the post-sex pleasures of "you make me feel like a natural woman" and then the melancholy reflectiveness of "I think I'm going back to things I knew so well in my youth".
These were remarkable lyrics (among many dozens) for Goffin to pen and have covered by women (The Shirelles, Aretha Franklin and Dusty Springfield respectively).
In the early Sixties the Goffin-King partnership rivaled that of Lennon-McCartney (whose "songbook" for other artists appeared earlier in this series) and among the artists who sang their material were -- aside from the Beatles with Chains, not included here -- Herman's Hermits (I'm Into Something Good), Manfred Mann (Oh No Not My Baby), the Monkees (Pleasant Valley Sunday), the Byrds (Wasn't Born to Follow, on the Easy Rider soundtrack which was a huge hit in New Zealand and not the States), James Taylor (King's You've Got a Friend) and Little Eva (The Locomotion, also covered by Kylie Minogue).
And those were just the white foilks.
The Drifters (Up on the Roof), Gene McDaniels (Point of No Return) , the Cookies (Don't Say Nothin' Bad About My Baby) and others black artists also turned the Goffin-King words/music into hits.
So here is a terrific collection of great songs (from the exciting pop of One Fine Day to adult and knowing Aretha) by one of the most prolific and successful songwriting teams of their era -- and while it might feel and sound like nostalgia, you can't argue with the longevity of these songs written by people in their early 20s for teenagers but often about subjects that are universal: love, sex, envy, regret and jealousy.