Graham Reid | | <1 min read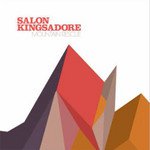 Salon Kingsadore is another vehicle for Auckland guitarist Gianmarco Liguori whose earlier albums under his own name (with stellar guests) have appeared at Elsewhere, and who seems a hard man to pigeonhole.
Here for example he leads the instrumental group of keyboard player Billy Squire, bassist Hayden Sinclair and drummer Steven Tait (with guests saxophonist Brian Smith and trumpeter Edwina Thorne) through material which weaves from blistering rock (the fiery opener Jump Cut) through edgy funky jazz-rock (Cocky Over-Confident Cocaine Border Crossing) and menacing film noir (Project Wolf where Squire provides the eerie organ backdrop) to disconcertingly beautiful moonlight swimming (The Warm War).
There are pieces here (notably the lovely and laidback The Gold Stereo and the twanging Lost Chord) in which you can almost imagine words being sung, such is their suggestive power. I'd be astonished if some singer doesn't set lyrics to these tunes.
Salon Kingsadore cover a lot of territory here (weird trumpet tones in Floating on the Nile, the cinematic Mood Lightening with Smith on melodically serpentine flute) and although a few pieces fade rather too quickly than come to some more natural conclusion you should fasten that seat belt.
This is an interesting ride which goes off in unexpected directions.