Graham Reid | | 1 min read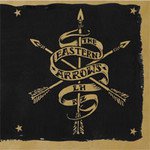 The Eastern out of Christchurch are new to me although for the past few months their name has been mentioned a lot, always along the lines of, "Oh, you gotta hear the Eastern."
Now I have and I too am saying, "Oh, you gotta hear the Eastern".
Part arse-kickin' Steve Earle (for whom they have opened), part reflective old time country, part Old Crow Medicine Show (for whom they have also opened), part country-styled Dylan and the Band, lots of energy and by all accounts one of the hardest working bands in the country, they impress on every count with this second album.
With two songwriters in their ranks -- banjo player, guitarist and singer Jess Shanks and mandolin player, bassist, guitarist and harmonica player Adam McGrath -- they can also draw on diverse sources: Shanks favours the quieter moods (the very beautiful and understated Maria, The Steeple and Breaks Like a Love Song); McGrath tosses out the country rock narratives and some finger-pointing.

His drawled Talking Advertising Cellular Sellout Blues is about how cynical advertisers hijack or appropriate good songs to sell product . . . and how some musicians go along with this debasing of their work. He has another go at sponsored singers on the Internet in The Needles Eye, and there is a political conscience at work too (Be True).
However he also pens the lovely, lowkey Gospel which wouldn't disgrace a Guy Clark or Townes Van Zandt album, the beautiful opener The Engineers Promise which sounds 200 years old, and delivers some astute poetry: "Oh mystery send me a sordid history of cheap songs and a tale long gone, let her tell me that she missed me . . ."
So with classic country instrumentation (the band includes accordion, piano, double bass, violin and drums), McGrath's dusty road vocals and Shanks' sweet and classic country sound, and 13 originals this is quite some discovery if, like me, the Eastern are new to you.
Really, if you like some of those names checked above -- and Springsteen in singer-songwriter mode -- then yes, you gotta hear the Eastern.