Graham Reid | | 1 min read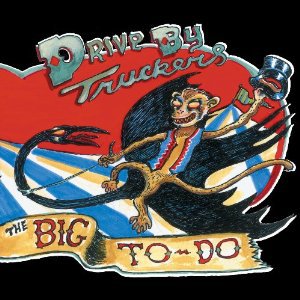 The Truckers inspire great loyalty, but fans may be tested by this outing which was knocked off quickly and suffers for it.

Certainly it rocks like Pearl Jam with Neil Young or Tom Petty's Heartbreakers on a three-day drunk, but songs like the otherwise excellent stripper's story of Birthday Boy stumble to a halt and others just sound undercooked, if bruisingly effective.

The opener Daddy Learned to Cry, for example, arrives like a rogue steamroller -- all buzzy riffs and careering guitar - but the vocal by Shonna Tucker is insipid and lost amidst the maelstrom, a shame given the words actually mean something.

Their last album Brighter Than Creation's Dark was difficult but terrific, still bridging Southern country-rock with alt.rock.

This time out though songs like The Wig He Made Her Wear, Get Downtown, the Petty-like After the Scene Dies and the weak ballad You Got Another sound like bonus tracks in a box set.

Of course there are some great songs among the 13: the alco-dependent Fourth Night of My Drinking concludes "it will be through with me before I'm through with it"; Drag the Lake Charlie has a streak of Warren Zevon misanthrope about it; and This F***ing Job is bound to be a barroom crowd-pleaser. Santa Fe is a lovely Band-like ballad.

So, uneven -- but in places usefully rowdy.