Graham Reid | | 1 min read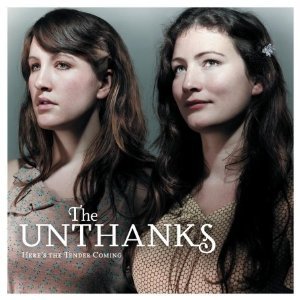 Mercury Prize nominated or not, the previous album The Bairns by these Geordies -- then under the name Rachel Unthank and the Winterset -- did not do it for me, and hence didn't get posted at Elsewhere.
It sounded far too finger-in-the ear gloom-folk and of marginal interest to anyone outside the English folk circle (and Mercury panels) which embraces such things. Even Rachel now considers it "bleak and sparse".
Maybe I was wrong and should go back and have another go because this album -- now giving fair credit to Rachel's sister Becky -- is quite something. "Hopefully a warmer, calmer shade of sad," says Rachel.
It is folk certainly (the finger-ear relationship threatens in the first 30 seconds of the traditional opener Because He was a Bonny Lad, but get past that) -- but with an expanded and changed band line-up (drums! bass!) it is folk with reference to Philip Glass (Patience Kershaw, and Lucky Gilchrist's powerfully minimalist string arrangement -- with a lyrical reference to Freddy Mercury!) and strange jazz (Simon Tarrant's trumpet on Sad February).
The sisters' voices certainly are things of beauty and as they ride over repeated piano figures (Annachie Gordon) they become utterly engrossing.
Alongside the traditional songs there are pieces by Ewan MacColl (an affectingly spare Nobody Knew She Was There), Anne Briggs (a melancholy Living by the Water over gloomy cello), Lal Waterson (a beautiful string setting for At First She Starts) and material from the band.
I'm an emphatically not a "trad.arr" folk person (I make exceptions for the likes of Steeleye Span) and so the acapella trad Where've Yer Bin Dick doesn't do it (it's an amusing interlude though).
But overall this strikes me as contemporary music from people who sing folk, and that I think is very big difference.
And these people this time out are very different. Excellent.