Graham Reid | | 1 min read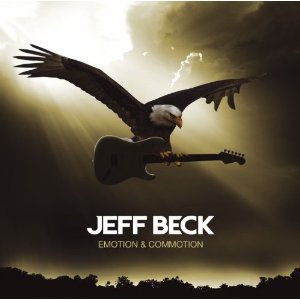 Jeff Beck's career has certainly seem some troughs -- usually by virtue of his absence from playing when the mood didn't take him -- but latterly he has enjoyed some great highs.
His recent touring reminded again of what a colourful palette he commands -- from fusion rock to great delicacy, often within the same piece -- and that he does this with such self-effacement.
His most recent live album recorded at Ronnie Scott's was a showcase certainly, but Beck has a lot to show.
This new album, his first studio recordings in seven years, again shows his emotional breadth as he serves up treatments of Benjamin Britten's Corpus Christi Carol (by way of Jeff Buckley) and Nessun Dorma in the same programme alongside a breath-catching Somewhere Over the Rainbow, the bluesy I Put a Spell on You (featuring Joss Stone) and an axe-shredding Hammerhead which nods back to his days with keyboard player Jan Hammer.
Diversity? That ain't the half of it. Sometimes here he is supported by a full orchestra, and at other times it is just a pared-back rock outfit.
It makes for slightly schizophrenic listening (straight after the soaring Nesssun Dorma is leather-lunged Joss Stone on a soul-blues stomper There's No One There with barbed wire guitar and Hendrix-in-the-house).
Its eclecticism, a Beck hallmark it must be conceded, won't make it an easy proposition for most. The album's title is a fair product description however.
But there is much sublime playing throughout, Beck's guitar is like a human voice in many places and aside from it being a bit heavy on the programming this confirms why he is now in the Rock and Roll Hall of Fame. Although it wasn't for playing Nessun Dorma or working with opera singers.