Graham Reid | | <1 min read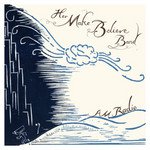 This delightful album by two expat Kiwis Cy Winstanley and Vanessa McGowan has been quite rightly picking up favourable notices in the UK where they are now based as part of the group Her Make Believe Band.
Certainly the references to Paul Simon (for lightness of touch and literacy in places) make sense but there is as much pop here as folk which tips it right into that category which hooks you in with melodies and keeps you there by virture of the words as much as anything else.
But there is also urgency here (Nobody's Business) coupled with an emotional tension ("I never thought we'd live like ball and chain," on the separation ballad Lonely Soul) alongside a sense of intimacy.
That's Why I Like You The Best recalls Simon at his pre-Graceland peak where McGowan nails in some lovely harmony vocals. Yet Having You Around rocks out through brittle distorted vocals and a thumping backbeat from the four-piece band, and DPH pulls in some glockenspiel.
So an even measure of folk and pop, angst and enjoyment: very hard to dislike and if you ever had a soft spot for the best of solo Paul Simon, a touch of throbbing folk-rock, singer-songwriters like Josh Ritter, or enjoyed some of that Mike McGear album which Elsewhere essayed then this is for you.
Very sharp stuff.