Graham Reid | | 1 min read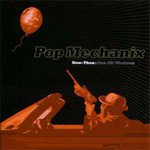 It would be fair to observe that when the countback of Kiwi bands of the Eighties is done the name "Pop Mechanix" comes up much less frequently than it should.
Yet here was a hard-working and thoroughly entertaining live band from Christchurch which cracked urgent singles like Radio Song ("my music, I want to hear it on the radio") at a time when radio programmers were looking the other way . . . . and had early songs produced by Mike Chunn and Eddie Rayner of Split Enz who were so impressed by them that they got them as an opening act on an Australian tour.
They went to Australia, suffered line-up changes (and name changes because of an Aussie band of a similar moniker) and stumbled at the album hurdle. It appeared as Cowboys and Engines in late '82 but by then it was pretty much over for this band which fired off sharp'n'snappy New Wave-framed, guitar-driven pop-rock that stands up even now.
This beautifully packaged 13-song collection (which comes with good liner notes in the gatefold sleeve and a dozen CD-sized cards replicating their singles covers) is considerably more than a nostalgia trip and material like Jumping Out a Window fairly leaps out of the speakers at you as terrific song which still thrills.
And there are more than a few of these remasters tracks like that: the jerky Holidays which strays towards electro-pop (but not too far to be silly); the Wall of Voodoo-like instrumental Cowboys; the punky power-pop of Brains Are Dumb; the deliberately self-conscious Art School Bop which anticipated Pulp . . .
This collection has been a labour of obvious love for Failsafe (which is chronicling the Chrristchurch scene) and Pop Mechanix here get a collection worthy of their efforts, energy and pop smarts.
One to play loudly and with no shame.