Graham Reid | | 1 min read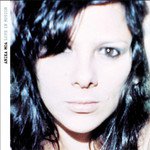 Curiously enough, the initial whisper on this fourth album by the New Zealand singer-songwriter was that she had, after albums of an acoustic persuasion, "made a rock album".
That might in part have been that she was working with musicians from more mainstream rock bands, and perhaps a few people heard the first single Running Through the Fire -- which to these ears is the least interesting track on this album, a journeyman meltdown of The Cure's A Forest and Pat Benatar in my book.
Much better comes in the considered, often musically minimal songs which take up the bulk of this album where the theme is love of many kinds (and its converse in a couple of instances).
Here Moa's voice sits just a fraction above the band, and the arrangements allow for lap steel and guitars which jangle or chime (or sting) as she addresses the various states of being seductively in love (as she apparently is).
In I Am the Woman Who Loves You she asks "how do you know from somebody's eyes?"; on the gently swelling Blame it on the Rain she gives herself over to simple need in the face of doubt and evasion ("I feel too tired to watch you cry"); and on Secrets and Lies (seemingly addressed to a former partner) she delivers a gentle poppy song referenced in some Flying Nun chord progressions with a pertinent message which, lyrically anyway, wavers between suppressed anger/disappointment and sympathy.
What also appeals here is her lyrical understatement which is often far more effective than the oppostite: Love Me Again opens with the simple declaration "I love you, in the morning" and goes from there about the need to kiss and feel her lover's body.
In the Air is one of the prettiest and most affecting songs she has ever written, and in places she reminds me of Sharon O'Neil (who danced rather than ran through the fire!) in her delivery.
So not "a rock album" by any means as Running Through th Fire suggests, but certainly an album which has quieter and rather more modest ambitions -- and succeeds all the more for that.
It is however a lot of very personal love being revealed and explored here and some will doubtless find that introspective nature and narrow wavelength less appealing than what has preceded it. Pretty nice traditional pop though.