Graham Reid | | 1 min read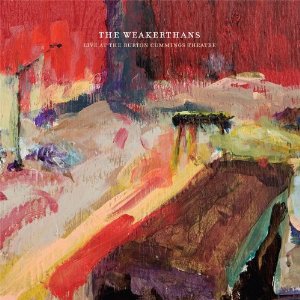 Anyone who has travelled around Canada with the car stereo flipping across the dial will discover that whole new world of rock, folk, pop and alt.music which exists north of the place which so often dominates our airwaves.
The Weakerthans from Winnipeg have an understandably loyal following in their home territory for their literate, often melancholy version of alt.folk-meets-indie.rock, and with weeping pedal steel they can conjure up those vast spaces between places and people. No surprise then that they have strong connections with the Broken Social Scene collective.
This impressive live album (with an accompanying DVD) sees the four-piece band with an expanded line-up which includes multi-instrumentalists adding trumpet, violin, keyboards and backing vocals behind singers Stephen Carroll, John Samson and bassist Greg Smith.
This makes for a big sound but one that never loses sight of the song: and what great songs too. Sometimes they bring to mind the Replacements and other times the mid-period power-chord Who, at others singers along the alt.country axis like the Mountain Goats, Willard Grant Conspiracy or Richmond Fontaine. Very good company.
in One Great City they deliver "I hate Winnipeg" to an appreciative crowd (but they don't really), and you have to like a band which can pen a title like Our Retired Explorer (Dines with Michel Foucault in Paris in 1969). Or, This is a Fire Door Never Leave Open.
Paste magazine said if there was a Pulitzer for a back-beat and buzzing power chords these people would be a leading candidate, and the New York Times noted that Death Cab for Cutie fans could like this, and that the Weakerthans had songs full of character and tunes that stick.
Can't add much to that.
Discover these people for yourself. You won't regret it if those references above resonate with you.