Graham Reid | | <1 min read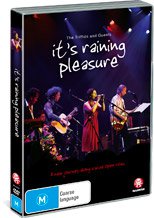 Elsewhere recently noted the tribute CD to David McComb of the Australian band the Triffids who died in February 1999. That all-star concert released as Deep in a Dream was to help raise funds to complete a doco on McCombs' short and sometimes troubled life.
Now comes this film taken from four nights of shows (which pre-dated the Deep in a Dream show by a few months) which included the remaining Triffids and guests such as Steve Kilbey (the Church), Mick Harvey (of the Bad Seeds), Rob Snarski (of McComb's post-Triffids band Black Eyed Susans) and Melanie Oxley (who sang back-up on the Triffids EP from which this film takes its name).
Again this stands as a two hour testament (with bonus material) to the emotional power of McCombs writing, although the interviews don't add much. Let's hope some of those subjects add more depth in that forthcoming doco.
But -- with the reissue of the Triffids albums, and these tributes -- there is no excuse for not knowing about David McComb.