Graham Reid | | <1 min read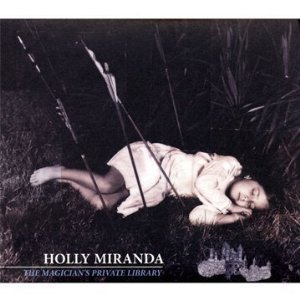 This is effectively the solo debut for New York-based Miranda (there was an album only available at gigs about six years ago) and it doesn't want for aural ambition.
Co-produced by David Sitek of TV on the Radio, it rides on strings, electric guitars, mellotrone, horns, organ and much else, and others from TV on the Radio and Antibalas also guest.
This is a big and layered sound for the most part (don't let the clip below suggest otherwise) but is at its most affecting when Miranda is allowed to come to the fore more: the darkly dreamy ballad Waves; the "duet" with TV/Radio's Kyp Malone of the gently electronic soundscape of Slow Burn Treason . . .
If there is a theme here it seems to be that dreams/nightmares are more real than the waking state -- which accounts for the sleepy sonorities and mildly disconcerting slightly-delic quality in places (the Eno-like ambience of Canvas).
But there are plenty of weak patches here where she seems to disappear into the vast canvas being worked on (the cute voice adrift amongst the cluttered Sweet Dreams), or that just simply don't stick at all (the faux-exoticism and trip-hop of No One Just Is).
And the initial single off this, the opener Forest Green On Forest Green, comes off as interesting slice of heavily augmented folk where Miranda plays an incidental role to the sonic landscape.
So a real curate's egg which is never quite persuasive but also manages to suggest a very different and interesting talent has emerged.