Graham Reid | | <1 min read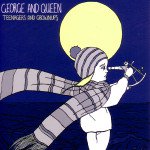 For their third album, this duo (now a band) out of Dunedin (now Auckland) here deliver a particularly interesting amalgam of radio-friendly pop (the single Hut 234, the delightfully driving power-pop of Fly Man) and alt.rock (most of the other 9 songs) onto which they throw strange and strangely appealing guitar shapes and rhythmic twists.
Immi Paterson has a voice which could be at home in more delicate and refined folk-rock circles but here she pulls out some real strength so isn't defeated by the brittle and bristling guitar work which is hallmark of this repeat-play album.
Neil Newton writes jerkily engaging songs (the allusive Big Shot, another with a stuttering guitar solo which goes through various moods from sharp to benign then power chords) and the deft, psychedelic guitar playing -- which sometimes owes a nod to surf music or Flying Nun indie.rock -- elevates everything.
Death and emotional pain walks through these songs too: ""Do you want the lights turned out? . . Tomorrow we'll come around and take you out"; Not Dying Man cf Dying Man; and the wistful lyrics of the closer Manu about a journey back to family and a childhood haunt.
Far from being "the difficult third album" this is a work of smarts, maturity, emotional engagement and wry humour punctuated by dark spots.
Much recommended.