Graham Reid | | 1 min read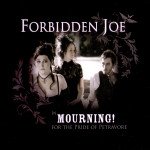 The previous EP by this Auckland folk trio (and friends) was impressive but tantalizingly too brief to get a full picture of what they were and might be capable of. But the one song by Francis Dickinson prompted me to point to it as something rather special and hold out hope for more from her astute pen when the album rolled around.
Regrettably -- aside from one co-write with Arthur Baysting on the gloomy cello-coloured Anglofolk lament Lilting Lal about the village good woman/prostitute -- we're going to have wait longer to hear more original material from Dickinson.
The rest of this album is an extension and broadening of the EP: Tom Waits and Katherine Brennan's Lucinda gets a moving treatment with Tom-like trombone; traditional material from diverse geographical sources (North Carolina for the assertive, bluesy plea of Death!, Ireland, New Zealand); a Playford "dance tune" Bobbing Joe which suggests they danced joylessly in the 17th century; and a lively instrumental Heavy Wrist Action/Party in My Pants (which live could segue neatly into the Stones' Satisfaction I'm guessing).
The album opens with Ewan MacColl's sea shanty North Sea Holes (delivered rather too cabaret-chipper for my liking) and closes with Old Maui, a local sea shanty featuring vocals by Kiwi folk legend Roger Giles.
This is highly impressive (and I say that as one who could usually care less about "folk") because despite the broad sweep of the sources -- and you can also add a European cabaret treatment of a British mining song, Boser Girls -- this comes together coherently as all being by Forbidden Joe (and guests).
Their sound can be usefully sparse yet also swing like crazy over banjo and percussion, or pull in woozy horns.
So while we have to wait for more originals -- and the evidence suggests they can create within these idioms -- this album confirms Forbidden Joe's place in the vanguard of a genuinely inclusive type of folk with deep roots in the past but an ability to bring it into the present with vigour and genuine committment.