Graham Reid | | 1 min read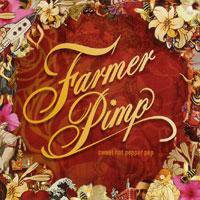 In a recent interview New Zealand singer/songwriter Claire Holmes from Farmer Pimp noted, "Other people worry more about what our genre might be than we do. That's actually why we called the album Sweet Hot Pepper Pop. We decided to make up our own genre".
Very smart -- and certainly the odd band name gives no real clue to what they do.
So let's just say that this album is a showcase for a much hyphenated genre of their own which is trip-hop influenced as much as it is jazzy-pop-cum-world music (is that a Japanese koto on the quirky Disney Love, and an Indian gopichand on the cabaret-grunge-pop of the P-Money-arranged Honey Bee?) and draws on an impressively talented cast playing sax (Cameron Allen), weird percussion . . .
Oh, and Holmes has a very r'n'b vocal style which owes more to the understated soul end (Duffy) than the over-emoting of Pop Idol contestants.
But if this hit list of eclecticism sounds a bit over-the-top (more hyphens) then be assured, that isn't the case at all. In the hands of producer Mark Michel, these songs breathe easily and never fall under the weight of their sometimes cleverly complex arrangements.
There's a spaciousness here -- so it comes as no surprise that some of these songs are undergoing remixes (Minuit for El Roboto, Pitch Black and Kerretta on others apparently).
But what's here is certainly memorable in its own right.
The Shine is pure r'n'b pop with a repeated piano figure; Inside My Head creeps along over a plucked and swooning violin while Holmes sings out a seductive vocal line; Like No One Else has a jazzy break-down with a parping horn section, gypsy-jazz piano from John-Paul Muir and a woozy trumpet solo by Finn Scholes.
Way Back Home has a natty stop-start funk feel; Fear and White Noise is a love song which takes place in a strange cabaret or maybe an opium den in some soulful r'n'b end of the city; Pieces of Eight has steel drums and tricky horns. . .
If there is a problem it's that over the long haul we might say Holmes broadcasts on a narrow frequency and rarely extends her range. There are places you wish she'd soar or dig deeper, if only to add breadth and texture.
That said, it is the sheer sense of the musically unexpected which propels this. All those hyphens make for an album which constantly has surprises around the next corner. I doubt you'd predict the lovely simplicity of Tide Rolls In right at the end.
In that same interview Holmes said, "We're perfectionists" and you'd have to agree.

This is an intelligent, quirky, listenable, pleasingly-hyphenated album. You really deserve to hear it -- maybe just two or three tracks at a time initially.