Graham Reid | | <1 min read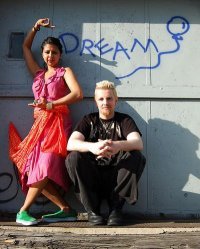 Brooklyn-based My Pet Dragon -- a five-piece around singer/guitarist Todd Michaelsen and singer/dancer/percussion player Reena Shah -- haven't appeared previously at Elsewhere although Michaelsen's vocals so impresssed producer Karsh Kale that he and Anoushka Shankar invited him onto their Breathing Under Water album (here).
My Pet Dragon's debut album First Born won critical plaudits and they have sent Elsewhere a maxi-single (four versions of Lover in Hiding which has long been a live favourite, the gently driving Between Us and the acoustic New Nation) in advance of their new album.
Michaelsen possesses an effortlessly powerful voice and plays ethereal Fripp-like guitar on Between Us -- and you can guess the album will have wide appeal as it touches on slightly exotic elements and has a clear, soulful pop-rock sound.
Check them out at My Space here where you can stream all these tracks. We'll keep you posted about the album.