Graham Reid | | <1 min read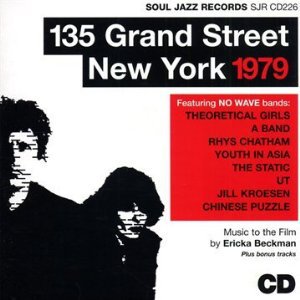 New York's short-lived No Wave movement was sort of punk with pretention: the untutored would collide with instruments, throw up "art statements" or aggressive political and/or social views, and appealed to an alarmingly small audience of like-minded people.
Lydia Lunch is credited with the first using the term to describe bands like Teenage Jesus and the Jerks, and Brian Eno was briefly infatuated with it and produced an album of No Wave artists entitled No New York (he cherry-picked the best like James Chance, Mars and DNA, but smoothed them out in production).
Those excluded from the Eno album (avant-guitarist Arto Lindsay of DNA later admitted how they jockeyed to keep people out) included guitarist Glenn Branca.
This collection -- which is the soundtrack to a film of the same name -- throws attention on those fellow travelers such as Youth in Asia (who have a song entitled talking Heads), Theoretical Girls and The Static (both of which included Branca), UT, Chinese Puzzle and A Band.
Although some of these people, notably Branca and Rhys Chatham with their guitar orchestras, went on to greater and more interesting things we'd have to concede these were early days and the primitivism, repetition masquerading as minimalism, and anxiousness to please/repel makes this rather tough going without the visuals.
But here are 16 (mostly) edgy guitar-driven tracks with strangulated vocals, some cheap and simple organ playing and the sense you kind of had to be there -- but in many instances you are are glad you weren't.