Graham Reid | | 1 min read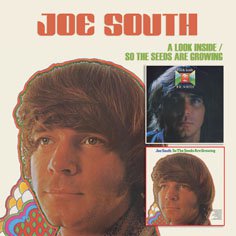 Joe South wrote some classic songs which others took to great heights: Hush (Deep Purple); I Never Promised You A Rose Garden (Lynn Anderson); Down in the Boon Docks (Billy Joe Royal) and others.
Of his own career he is best known for the terrific Games People Play which was also much covered (in New Zealand by Allison Durban) and the weary Don't It Make You Wanna Go Home Lord. He had a laconic Southern delivery -- when he wasn't going for the whole ballad push.
The first album on this two-fer set of his '71 and '72 period catches him that post-hippie period where there was still some optimism in the air (he covers United We Stand), a whiff of pastoralism, but also the musical experimentalism of the period.
So here are interesting arrangements: a rock band plus flute, stacked up backing vocals and horns, punchy guitar, shifts into a minor key, some real Southern soul and a little Memphis funk. And he throws in a pretty stonking cover of Ray Charles' Drown in My Own Tears, as well as picking up Lady Moon Walker (penned by Mars Bonfire who wrote Born to be Wild) and delivering a raw version of Motherless Children over a stabbing arrangement.
There is country soul aplenty here but rather overwhelmed by the everybody-in production and South's songs not being quite as strong as those on which he'd made his name.
The '72 album A Look Inside is the stronger, opening with the stripped back and emotionally desolate Coming Down All Alone which, in Keith Richards' hands, could have made the cut on the dope-soaked Exile on Main Street.
His soulful Imitation of Living ("God help me if you can, help this poor imitation of a man") cries out for a rediscovery and everywhere there is a sense of urgency here that makes the album less complacent than so many others at the time. With slewing slide guitar, bluesy moods and Southern soul on songs like It Hurts Me Too, Real Thing and One Man Band it is closer to Leon Russell, the Allmans or drugged-out Clapton.
South's voice can be a little hard to take on A Look Inside because he is in more upbeat soul mood, but the material is uniformly strong (Misunderstanding is black soul in another lifetime, the moody and stoned Misfit really does "cook" as he says and he sounds like an alt.Elvis)
Oddly enough this comes with some bonus tracks -- two from '69, one from '73 and improbably a country ballad from last year (his first studio recording in 35 years) entitled Oprah Cried, a country weeper (tongue-in-cheek I hope) about pouring his heartbreak out on television and which sounds like Merle Haggard. It's an odd one, and kinda funny.
So two albums for the price of one (one pretty terrific) and one priceless song about Oprah. That's a good deal of Joe South.