Graham Reid | | <1 min read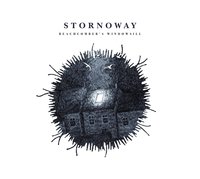 Named for a small town in the Outer Hebrides and affecting a kind of folksy pop, Stornoway from Oxford pull light and slightly satirical styles (We Are The Battery Humans with its references to people born to be free-range but preferring to watch television) together with Anglofolk of the Amazing Blondel-to-Fleet Foxes continuum and literary lyrics sung with a direct earnestness which calls to mind a little, a very little though, of the Incredible String Band.
But while these are all valuable reference points and this is modest in ambition, not a lot seems to have much longevity other than the opener Zorbing which adds a deft wee splash of horns, I Saw You Blink which is an English twin brother short of Scotland's Proclaimers, and the minimal pop-rock of Watching Birds with its chugging beat.
Nice enough, but too much that is familiar, not enough that sets them apart.