Graham Reid | | 1 min read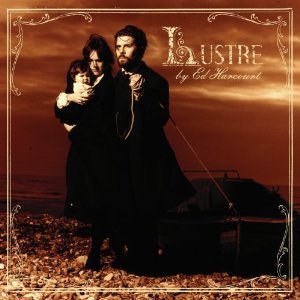 Sometimes these days it seems that more music is coming out of the Pacific Northwest than ever did at the height of grunge: the difference being it is quieter, more folksy and singer-songwriterly, and is often astutely produced with a few strings.
Briton Ed Harcourt relocated to somewhere just north of Seattle (not as far as Canada, to Bear Studio) for this, his first album in about four years. And the singers-songwriter of his early days has now adopted a more expansive (musical and in delivery) approach.
On the cover he poses with his wife (Gita of the Langley Sister who provide backing vocals) and his daughter -- and they are also symbols of his new maturity and open-hearted expression. In the string-enhanced title track opener (where "lustre" sometimes sounds like "lust") he jibes about "the sad sack troubadour who throws out all his toys".
And in the follow-up, the throbbing Haywire, he pleads "please don't wake me from this spell, I found a little heaven in this world of hell . . . I miss you so much I go haywire" and speaks of people falling in love with the idea of love.
Later he insists he has "got my head screwed on . . . I'll make my own decisions".
There a powerful confidence and romantic impulse here which Harcourt delivers in manner akin to Chris Martin of Coldplay playing Jeff Buckley. Or in places Grant Lee Phillips.
In arrangements which are crisp and keep his vocals up front of guitars, piano and strings, this is an album which marks a very clear turning point for Harcourt. And although not everything works (the poppy Heart of a Wolf, A Secret Society which sounds like a stab at campus radio play) when he bares his heart -- as on the final song Fears of a Father -- you know Harcourt is one of the few singer-writers who can be as inspired by happiness as much as misery.