Graham Reid | | 1 min read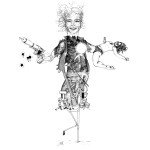 One of the nicest things about small indie artists is the care they lavish on the presentation of their low-key albums. Witness the delightful Tokey Tones albums or even the more rough-hewn albums on Flying Nun where the art was a signifier of the contents.
And so it is with this terrific, confident, witty and repeat-play six-song EP which comes in an "exquisite corpse" cover (the collaborative work of artists in the manner of the Surrealists, or just what you do in restaurants to amuse kinds). It folds out into a large crucifix.
And within are half a dozen songs which are lyrically biting, droll, astute and witty -- all delivered in the context of guitar-driven songs which bristle with energy and smart pop-rock arrangements.
The locale in places and names will resonate with Kiwi audiences as they seem to say much more than mere words suggest: in PJ Harvey's on the Stereo (a stabbing take on early Flying Nun) singer-songwriter Anthonie Tonnon yelps "I grew up on punk, she was raised on grunge . . . just a good boy from the cold suburbs of Dunedin, I like cardigans . . . she's an earthquake from Hastings burning with fire from underground . . . this is love".
That kind of emotional dichotomy is scattered throughout here where nothing is for certain ("we're in love and we're still pretty young" on Tuesday Evening which comes of like Morrissey with less ennui). And on Barry Smith of Hamilton he takes off (with some sympathy) people who appear on Stars in Their Eyes: "Tonight Matthew I will be anyone except Barry Smith from Hamilton, I can sing as good as Ray Columbus and my wife tells me I was just as cute, I was waiting by this river to be discovered . . .")
The title track asks what "a man" is (strong handshake?) and what it is to be one . . . and comes up with no answer other than, "it's a fragile thing".
Politics Will Only Make You Miserable is as contemporary as today's newspaper, again Morrissey comes to mind.
Tonnon is an intelligent, adult lyricist (and possesses a dark, assured voice) and if the music seduces in its pop-smarts, then be prepared to be provoked into thought by what the subject matter is.
One of the most surprising and rewarding local discs of the year.