Graham Reid | | 1 min read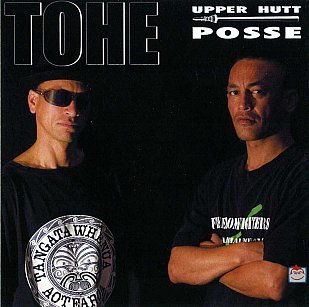 For quite a while it seemed that the seminal Aotearoa/New Zealand hip-hop outfit Upper Hutt Posse might have been reduced down to Dean Hapeta, who was actually appearing under the name Te Kupu (aka The Word).
But here, on an album which kicks along on the back of staccato, minimalist dubstep beats and huge reggae style bass, the Posse are again at it . . . this time Hapeta and his brother (MC Wiya) from the original line-up, with Dean's 16-year old daughter Ataahua also in attendance. The Posse legacy is being passed on to a new generation.
The album title (Resist) also continues the get up/stand up message which they have carried for over two decades, and the assertion here of Tino Rangatiratanga (Maori sovereignty) is as relevant as ever, and comes with the appropriate punch on Mana Motuhake which sounds like a P-fuelled hip-hop haka (with a pop chorus) over the machine gun beats and synth.
The pace isn't all relentless and there are some subtle melodies here: the spooky Haramai Te Toki references Marley's Crazy Baldheads and ska dubbery; the reggae-influenced Pakanga is in the tradition of the Posse's great E Tu, but Ataahua's vocals bring a charm which is a neat counterpoint to the declaiming; and Mohio right at the end has an ethereal, otherworld quality to it which locates itself somewhere between a marae in distant history and space flight into the hi-tech future.
Being largely in te reo (Maori) might put this beyond the reach of some, but as mentioned previously when writing about Hapeta/Posse that is rarely a problem: the urgency of Te Kupu's delivery and the way he references significant events/figures/beliefs/Maori politics means there is more familirity than many would think.
This is a musical departure for the Posse, but in bringing in these sparking, flinty beats (mixed and mastered by Chris Chetwin at Kog) they have sounded contemporary once more.
No mean feat after all these years.