Graham Reid | | 1 min read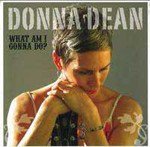 When it comes to country music (alt. or country-rock) Donna Dean has the credentials: the gal has done it all -- marriage, kids, divorce, rehab, bars and clubs, opening for the likes of Willie Nelson, Jimmy Webb and the Penn-Oldham team . . .
She spent time in London and Europe, recorded her debut album Money with The Amazing Rhythm Aces in Nashville, and for this follow-up recorded in Auckland she hooks in Bill Chambers and Nigel Gavin (on mandolin) alongside a cracking band which includes pedal steel, dobro and Weisenborn.
Dean really covers the stylistic waterfront here: the album opens with the airy, prairie-wide ballad title track, follows that with the backbeat-driven country rocker Baby Doesn't Love Me (which could have come from the Sweetheart of the Rodeo-era Byrds) and elsewhere there are finely crafted songs which shift from pure country-rock (Shania Twain and the likes could do worse than look to Too High here) to roadhouse rockers (Rain Fall On Me, Some Sweet Day).
The centrepiece Pray -- "get disappointed by trivial things, then I get down on my luck, that's when I need a reminder to get my priorities straight . . . I get down and pray" -- is a thoughful, pointed ballad. As is the deliciously spare Fireflies.
Aside from this welcome musical diversity, Dean is a writer with something to say. A Silent Lie here is a model of economy and observation: "A tiny crack appeared as your story unfolded, the tilt of your head, the way you shrugged your shoulders. You didn't have to say a name, I could smell her in the silence, feel her in my veins . . ."
And The Tumble right at the end is a motel room late at night when the blue light from television, as silent as the night sky, casts a lonely glow and it's clear "you're not coming back . . . I'm missing you".
Donna Dean has won Tui (songwriting) awards and is a country songwriter of great depth -- and the brief liner notes here say these are "songs that will stand the test of time because they're well crafted and rooted in truth".
But you've already guessed that from what I've said, right?