Graham Reid | | <1 min read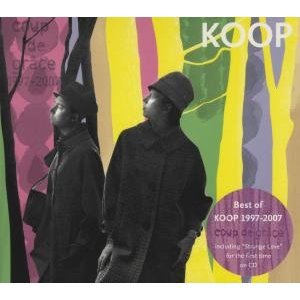 When it comes to cool, sophisticated, swinging and intelligent clubland-cum-lounge pop, Koop out of Sweden take some beating.
The electronica duo of Oscar Simonsson and Magnus Zungmark sensibly bring in acoustic players (clarinet, vibes, sax, flute, bass and so on) to ground their music in the world of jazz, and also pick up classy female vocalists who bring a breathy, sensual quality to music which owes debts to classic Brubeck, has a touch of Ellington, hints of Latin styles, and the meltdown of jazz and electronica through the likes of US3 and St Germain.
This 11 song album collects tracks from their three previous albums (and adds the US only single Strange Love) and is one for cocktail hour as you sit in your Scandanavian furniture and flick the pages of a Vogue from the Sixties.
Very nice indeed.