Graham Reid | | <1 min read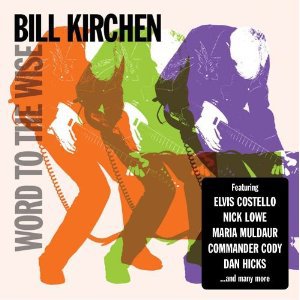 It really doesn't matter if you don't already know of guitarist/singer Kirchen, judge him by the friends he keeps.
Here are his longtime friend Nick Lowe (on the wonderfully overhauled Merle Haggard number Shelly's Winter Love, with Paul Carrack); Elvis Costello on Kirchen's outstanding Man in The Bottom of the Well; Commander Cody playing piano on the funny I Don't Work That Cheap (Bill was in the original CC and His Lost Planet Airmen line-up); Dan Hicks on the title track; Maria Muldaur on Ain't Got Time for the Blues; Chris Connell on heartfelt version of Roger Miller's often sentimentally interpreted Husbands and Wives . . .
Between times it is just Bill and his air-tight band . . . and that razor sharp guitar playing.
Kircher is a legend in some circles and utterly unknown in most households -- but for sheer fun (with a rockabilly, country-rock spin), incisive guitar playing and smart songs, this is hard to beat.
And frankly, if he's okay by Nick Lowe . . .