Graham Reid | | 1 min read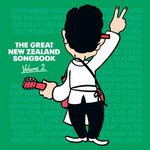 The previous volume in this series (see here) sold eight times platinum which proved two things: that well packaged and intelligently compiled collections of New Zealand are popular and in short supply, and that a lot of Kiwis living abroad probably got one for a birthday/Christmas.
If that set -- 42 tracks over two discs -- came up a little short in the wave of Pacific artists of the past two decades this 38 song double disc redresses that imbalance with tracks by J Williams with Scribe (You Got Me), Nesian Mystik (It's On), Che Fu (Misty Frequencies), and DLT with Che Fu (yep, Chains).
Divided again into discs of Last Century and This Century this collection (the final in the series), once more scoops up the familiar but not too often anthologised: Sharon O'Neill's Maxine, Dance Exponents' Victoria, Peking Man's Room That Echoes, Shihad's Pacifier (perhaps not the strongest choice from them), Mi-Sex's Computer Games and Annie Crummer's Language on the Last Century disc.
The disc of more recent songs includes Gin Wigmore's Oh My, Smashproof's Brother, The Veils' dreamy Lavinia (a good inclusion), Steriogram's My House and the Mint Chicks' Crazy? Yes! Dumb? No!.
What also sets this apart from other anthologies is how up to the minute it is: here are Dane Rumble (Cruel), Kids of 88 (My House) and Lawrence Arabia's Apple Pie Bed (which won the Apra Silver Scroll songwriting award last year).
And around the edges of those you get Kiwi classsics: Patea Maori (you can guess which one), Th'Dudes Be Mine Tonight, Split Enz's I Got You, Crowded House's Private Universe, Ray Columbus and the Invader's She's a Mod and the always wonderful Slippin' Away by Max Merritt and the Meteors.
Then there are the more recent songs which have etched themselves into memory: Albertine (Brooke Fraser), the anthemic All On Our Own (Midnight Youth), Lydia (Fur Patrol) and Katchafire's joyous Giddy Up.
And more: Annie Crummer, Pluto, Greg Johnson, Blindspott . . .
Nothing this time from those prolific Wellingtonians around the Phoenix Foundation or Black Seeds, and still no Salmonella Dub . . . But who knows who wasn't available, and even two discs does impose its own limitations.
With yet another endearing Dick Frizzell cover, the Great New Zealand Songbook Vol 2 is not just a useful companionpiece to the previous set but just a whole sweep of Kiwi music which is emblemmatic of how broad, interesting and well exectuted it has become.
Makes you feel a pang of pride and sentimentality -- and relief that Christmas presents for family and friends overseas have just been taken care of. Again.