Graham Reid | | 1 min read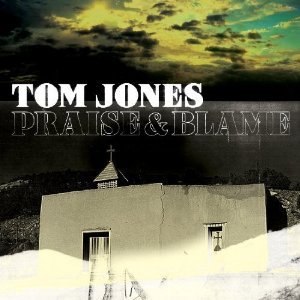 The late-career revival isn't uncommon these days (Bob Dylan, Bettye LaVette, Solomon Burke, Johnny Cash et al) but it still comes as a surprise, especially in the case of 70-year old Tom Jones who could have coasted into retirement with albums of interesting standards (in the manner of Rod Stewart) or even just pick up a few contemporary songs which suited his soul-belter style.
But, as the title here suggests, the Jones boy has gone back to the church for an album of gospel, soul and darkly meditative songs about spirituality.
The material chosen is interesting of itself: he opens with a brooding take on Dylan's What Goood Am I (which will startle those expecting some vocal punch, it is all understated) then moves into Jesse May Hemphill's Lord Help (over a gritty guitar riff) and into the old Did Trouble Me where he again exhibits understatement over the low banjo and soft backbeat.
Here the lyrics shift between profound faith (Sister Rosotta Tharpe's rocking gospel Strange Things) to fear of damnation (John Lee Hooker's Burning Hell given a nasty guitar riff and stern belt, Billy Joe Shaver's country-moody If I Give My Soul) and the belief that God's gonna get ya (his own Run On co-written with producer Ethan Johns).
Jones and Johns also do some minor rewrites on the old blues and gospel standards Nobody's Fault But Mine, Didn't It Rain and Ain't No Grave -- and courageously claim writing credit. Still, that's been in the nature of how these songs have been adapted (Led Zeppelin, Nina Simone, Johnny Cash and others have changed them previously).
So here is an album with a driving ethic which gives it coherence (despite the diversity of material and approaches) and there are some great performances: aside from those first three already mentioned there's also the slow and eerie Nobody's Fault, the Shaver and the bluesy guitar boogie of Run On.
But what lets the project down is the lack of real gospel belt in the backing on Strange Things and Didn't It Rain.
The studio session doesn't allow for any real hand-clap chant-down spirit to be raised and you wonder why -- when the cast includes sympathetic and stellar talents such Booker T, Benmont Tench, Gillian Welch and Dave Rawlings -- they didn't get in a gospel choir (or better, get themselves down to a Southern Baptist church) for the real testifying songs.
It makes for an album which, when it should soar and Jones is full of the spirit, sounds studio-bound and musically constrained.
So while this is often worthwhile and quite gripping, it is also annoyingly uneven and outside of its best tracks it sounds like an opportunity lost as much as an opportunity taken.