Graham Reid | | <1 min read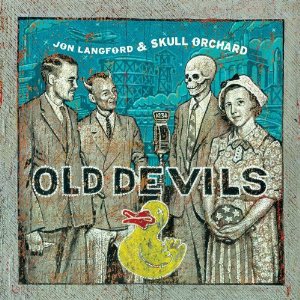 Langford was in the UK punk-era Mekons way back but has in more recent times embraced a kind of folk-punk Americana and played with the likes of Ryan Adams and Alejandro Escovedo.
Chicago-based, he's also a well-known artist (lots of covers for the Chicago label Bloodshot).
With Skull Orchard he parlays a rough-edged country-rock with a punk/Clash urgency -- but although he has a way with an interesting lyric (sort of life among the ruins, quasi-autobiographical snapshots) it's hard to make a case for this one over the long haul.
There are no surprises in the chord progressions and for all its economy, narrative qualities and so on, there are so many others in this field who are doing more innovative work.
Andre Williams guests on the pirate tale Pieces of the Past, and the quietly gripping Death Valley Day is the standout.
Oddly enough, given his background, it is the slower material like Death Valley Day (Book of Your Life, Luxury, Haunted with its warm horns, the Spanish-influenced title track) where he makes an impression.
So, uneven -- but when he digs deep into a literate country-rock ballad he can really take you to a place.