Graham Reid | | <1 min read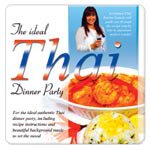 And now for something completely different, just because we can.
I spotted this series of CDs with recipes and they are absurdly cheap, so . . .
This series by chef Bettina Samain offers you simple four course, themed dinner party recipes for Mexican, Italian, Chinese, French, Indian and Thai evenings.
The recipes are alarmingly simple -- chefs among you will embellish, more chilli in the Mexican chilli con carne perhaps -- and I've posted a Thai one at Recipes from Elsewhere.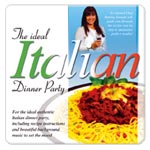 The music is gentle ambient sounds which refer to the regions (even the Mexican one won't have you picking up the castanets, but that's the point) and so your whole evening is done for you. All you have to do is follow the simple insttructions and pick the right wine or beer match.
Impress your friends with your porcini mushroom risotto and zabaglione surprise . . . and discreet taste in music!
Just fun.
Give the series to anyone going flatting for the first time. The recipes are simple and common (spag bolognese etc), and once they've got the basics down they will feel confident enough to improvise around them.
And that's when they head to Recipes from Elsewhere!