Graham Reid | | 1 min read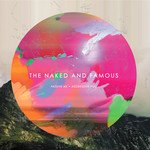 From She Loves You and She's a Mod, pop music has always rung to the affirmation of "yeah yeah yeah" -- and to hear this Auckland band work it so well on their newly minted classic single Young Blood (which recently won the Silver Scroll for songwriting) was thrilling.
This debut album has been so well canvassed and reviewed that little remains to be said about it: it feels like a collection of singles as each song is economically crafted, and the tension between the electro-beat and standard band gear (as well as the voices of founders Thom Powers and Alisa Xayalith) makes it bristle as much as have you air-waving to its massive pop hooks and choruses.
In that regard N&F do little that is new, but they deliver such short and sharp shocks pf pop that you can't help but hit repeat-play. And at a tidy 50 minutes this never outstays its welcome.
It isn't all pop confections either -- the bruising Frayed with its disjunctive vocal parts is a standout at the darker end of the spectrum, there's the staccato Spank, The Sun hints a moodiness which may develop -- but for now this is an album of the old style: different songs bumping up against each and adding up to a picture of a band with considerable breadth.
Sounds a wee bit thin in places but that's a small matter because this is going to be pumping out of computers, cars, iPods and radio stations for some time to come.
That title -- with its juxtaposition -- is also telling. That is what they work very successfully here.
Impressive -- but you knew that already, right?