Graham Reid | | 1 min read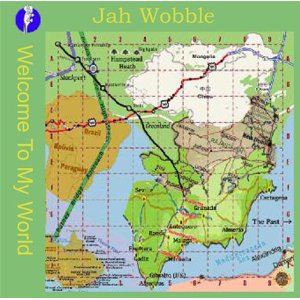 Jah Wobble has been one of the most interesting and innovative musical explorers of the past few decades but, as I discovered in '96 at the time of this interview – he does it mostly without leaving home.

Travel is for the middle-classes he said and a working-class geezer like himself, well . . .

Anyway he'd done the touring thing, so . . .

Fascinating man whose music often has some spiritual component alongside the travelogue aspect.

So given all that it is amusing to find this album and its global-outlook of a title – and yet in the liner notes he says most of these pieces came about through dreams of distant places he had never visited.

That said, he manages to effectively evoke the exoticism of this world and only the apocalyptic tone of Last Days (in which he speaks of impending doom) seems out of place on this mostly instrumental album.

The place-titles of some of the 21 tracks seem nominal (Granada is more of squirreling post-Ornette trumpet piece) but certainly China (with traditional instruments) is highly location-specific.

Behind it all lurks the presence of dub and that is a fine, unifying thread.

This isn't always engaging and it does feel over-generous at 70 minutes – but whether it be Putney, the M60, the Outback (nope, never been there either) or Cadiz, Jah Wobble manages to clock up the frequent flier miles for you with anyone having to leave home.

Interesting – if not essential – as always.