Graham Reid | | 1 min read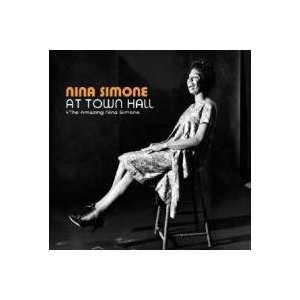 Troublesome woman though she may have been -- angry, politically volatile, courageously self-obssessed -- there was never any denying her phenomenal, rare talent.
Classically trained but with her heart also in gospel, r'n'b, jazz and blues, Nina Simone (1933 - 2003) crossed stylistic boundaries on piano as if they didn't exist, and her expression-filled vocals would occupy a lyric in a way few could equal.
This double disc catches her right at the start of her career -- studio and live recordings from '59 -- and her range is extraordinary.
The album At Town Hall (in New York of late in the year) was her first major triumph: she opens with a breathtakingly spare version of the traditional Black is the Colour of My True Love's Hair and later the beautiful The Other Woman (an early favourite) hints at rather than strips out deep hurts. With bassist Jimmy Bond and drummer Tootie Heath she gets going some walking blues on her own Under the Lowest, but later also takes on the Dimitri Tomkin/Ned Washington ballad Wild is the Wind (which Bowie covered on Station to Station, inspired by her version) which was in fact recorded in the studio previously.
That Town Hall album goes out with her take on Billie Holiday's Fine and Mellow, these last two an indication of the breadth of her musical vision.
On this disc Town Hall runs into The Amazing Nina Simone which had been recorded in May that year with Bob Mersey's orchestra, and it the lessser of the two albums.
As with Aretha Franklin, hers was a talent so unique no one was quite sure what to do with it in the studio and so here she is in cool or swigning jazz mood and interpreting standards like Stompin' at the Savoy, Rodgers and Hammerstein's Might As Well Be Spring, Willow Weep For Me and Nobody Knows You When You Are Down and Out.
But when she throws in the gospel swing of Children Go Where I Send You you can hear her reaching back to a tradition beyond jazz.
Simone would later create some exceptional albums and if these pale a little in the comparison that doesn't deny their power which must have been quite startling at the time. She was a rare one.