Graham Reid | | 1 min read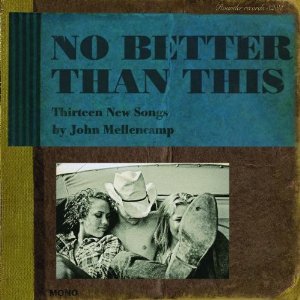 The man they call "the poet laureate of the Interstate" (although he always sounds a backroads man to me) ha been on such a roll lately with Freedom's Road and Life Death Love Freedom) that the idea of him recording in mono with T Bone Burnett in Sun Studio, the Gunter Hotel in San Antonio (where Robert Johnson was committed to tape) and the First African Baptist Church in Savannah would suggest he is going to be mainlining some kind of magicaal spirits this time.
That is to a large extent true -- Burnett typically keeps things stripped back and up-close), the few other musicians are kept out of the centre opf the frame unlesss necessary -- and in the site where Johnson sang his scary blues Mellencamp chooses Right Behind Me (that would be the devil) which sounds ancient and raw.
Curiously Coming Down the Road (hearing the bells of freedom with hands tied) might have recommended itself to a different, lesss country, arrangement and to that Baptist church (it was done in Sun, which beautifully captures the low, box-drum country-blues sound of No Better Than This with Marc Ribot on guitar).
Mellencaamp may adopt the voice and style of an old troubadour, but his songs are frequently thoroughly contemporary: the opener here Save Some Time to Dream ("prepare yourself for failure, it will give you strength one day") could be of comfort if your trailer park was hit by a twister or you just lost the home/farm in the recent US mortgage crisis; No One Cares About Me is about a family split by time and circumstance ("lost one of my boys to the drug man"); and the chilling story about sudden death arriving in the most ordinary of situations on Easter Eve is as old as the moon and as current as last night in a bar somewhere.
Clumsy Ol' World with its wry, understated humour could have come from the pen of John Prine.
This is another mostly dark and melancholy collection, but out there on the Interstate or backroads things aren't that great for many . . . and a real people's poet speaks to and of his constituency.