Graham Reid | | <1 min read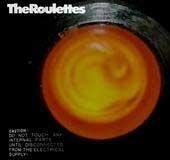 The openers here by this Auckland trio don't initially seem stray too far from the template of fizzing and slightly fuzzy power pop-rock, but when the spirit of Marc Bolan and early Bowie walk through The Green Lantern things really start to perk up -- and have the effect of making you listen again to those openers (the title track with massive bass line and slightly snearing vocals, Call with throbbing grunge guitars).
On Unread Books ("all this talk of revolution, is just talk of revolution") and Join the Fray ("you said the word, and the word was . . . laaaughter") singer Justin McLean sounds cynical beyond his years, yet the brittle music drives this in a way which runs counter to that sense.
They observe people Bored of Having Fun too, and take a poke at them. The appropriately entitled Lazy slinks along menacingly ("sunsets drive me crazy . . . my bones are feeling stoned and I'm alone without my baby").
Seven tracks in about 20 minutes (about perfect pop-rock length) and Shining Surface right at the end takes things out on an energetic high.